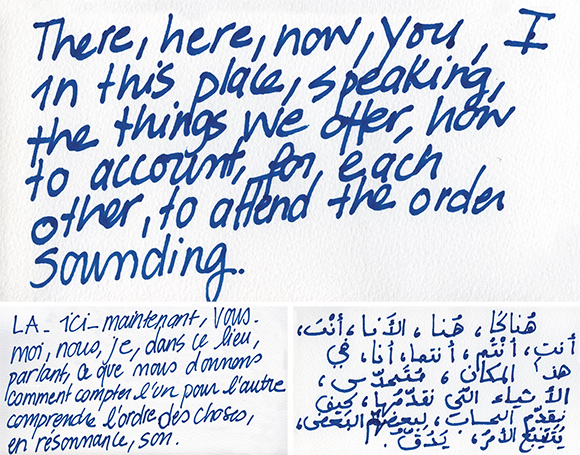 Eminating from the 2005 installation phora, this re-edited recording combines the voices of Ann Hamilton, Dinah Diwan, and Anne Calas each reading a text aloud in English, French, or classical Arabic. The original version was recorded and edited by Anthony Soba for phora, and could be heard coming from spinning sousaphones near the refugee tent.

The text of (phora • voice) in English is:
there, here, now, you, I, in this place, speaking, the things we offer, how to account,
for each other, to attend the order, sounding
The text in French is:
la, ici, maintenant, vous, moi, nous, je, dans ce lieu, parlant, ce que nous donnons,
comment compter l'un pour l'autre, comprendre l'ordre des choses,
en résonance, son
The text in Arabic is:
hounàka, houná, El ana,
anta, anti, antoum, antoumà,
ana, Fi hazal makán, moutahaddes,
el achya allati nouquâddimouha,
káyfa nouquaddimou el hisab,
libaadouhoum elbaad, yatatabbaou't
amrou, yattabaou el amrou
These 24 words in English can be spoken in infinite variants or combinations and some of these possible combinations are what the speakers improvised in three languages. Each spoke her own first language and also each other's languages (of the three speakers, only one is trilingual). In this process and through this recording, each came to understand that learning another person's language—learning to speak—is to learn new physical patterns of the mouth, the tongue, the palate. Also, it revealed how the act of speaking and learning another language is an embodied act, an act of empathy, taking into the body another sound, shape, and history.